The Grand Canyon, one of the Seven Wonders of the World exists among lush desert landscapes, crystal-clear waters and breathtaking mountain peaks.
Grand Canyon National Park is the United States' 15th oldest national park and is located in northwest Arizona. Within the park lies the Grand Canyon, a gorge of the Colorado River, considered to be one of the Wonders of the World.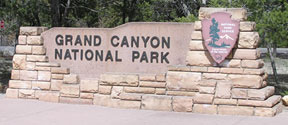 The park covers 1,217,403 acres of unincorporated area in Coconino and Mohave counties. The Grand Canyon divides Mohave county into two parts with an impassable gorge which no road crosses.
A powerful and inspiring landscape, the Grand Canyon overwhelms our senses through its immense size; 277 river miles long, up to 18 miles wide, and a mile deep.
Most visitors to the park come to the South Rim, arriving on Arizona State Route 64 which connects with I-40 at Williams, Arizona about 60 miles south of the park. Arizona State Route 64 enters the park through the South Entrance, two miles north of Tusayan, Arizona,
The beauty of the Grand Canyon, one of the 7 Natural Wonders of the World, is like nothing else you will ever experience. Each season of the year provides a unique vista.